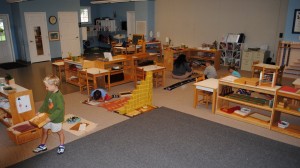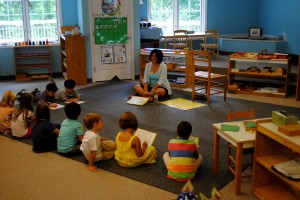 The Montessori indoor environment is striking, beautifully adorned, and artfully created. Upon entering a Montessori classroom it is evident that the classrooms are designed to meet the needs of the children of a particular three year age-span. The classrooms provide freedom in movement and in choice.  Dr. Montessori observed that children experience sensitive periods during which certain needs and sensitivities are met. These needs are clearly defined within Montessori's Planes of Development.   The Montessori classrooms are designed to meet the needs and characteristics of children in each plane of development through a multisensory approach to learning.
What is most characteristic of our system of education is the emphasis placed on environment. To assist a child we must provide him with an environment which will allow him to develop freely.

Dr. Montessori, The Secret of Childhood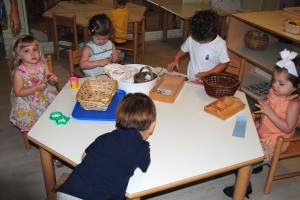 At Five Oaks Academy, the classrooms are designed to be bright, beautiful,  warm and inviting; they are designed to elicit a feeling of the comfort of home. The spatial layout of the classroom is open, with ample work space at tables and on rugs. In each classroom you will find plants, animals, art and music, as well as the materials and shelves that house the curriculum areas. In addition to the curriculum areas, the classrooms are well balanced to allow space for individual work, community meetings, food preparation, quiet reading areas, and libraries, and areas  for conflict resolution. At Five Oaks Academy, each  indoor classroom environment  is nestled on the edge of the woods, with large windows providing natural sunlight and beauty as well as access to the lush outdoor environments.