A Message From Our Executive Director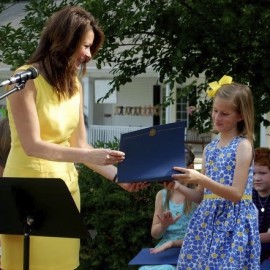 Welcome to Five Oaks Academy. We appreciate your interest in our school and our admissions process.  We believe we offer an unparalleled program and our admissions process is designed to help students and their families determine if our 21st century approach to education is a good match for your child and your family.  Five Oaks Academy prepares our students to succeed in the real world of ideas, enterprise, and challenging perspectives. We encourage research and critical thinking skills. We lead our students to discover and to develop their unique talents and possibilities. We rigorously prepare our students for the 21st century.
We empower children to discover the interdisciplinary nature of history, science, geography, math, literature, writing, and culture of all peoples.
We inspire students to think for themselves and to make decisions.
We teach children how to formulate questions and do their own research.
We help children develop their skills of time management and prioritization of responsibilities by introducing them to diverse and unique perspectives.
We instill respect for different points of view through world studies, conflict management, and resolution.
In addition to our beautiful 10 acre campus, we are unique in offering a maximum student teacher ratio of 12:1. Our classroom models are based on 2 and 3 certified teachers instead of the traditional 1 teacher: 1 assistant model. With the completion of each 3 year cycle (3-6, 6-9, 9-12) our students master a comprehensive integrated curriculum. Our Montessori curriculum is enriched and challenging. Our students explore the realm of mathematics, literature, the sciences, history, geography, and the visual and musical arts.
At Five Oaks Academy, students cultivate a lifelong joy of learning. Choosing a school that will challenge and nurture your children is important to their future successes. Education that stimulates the students to reach their unique potential is priceless. We invite you to join our educational journey. At Five Oaks Academy, we provide an environment that leads students to create questions, ideas, and challenges that will place them in situations where they can make their own life changing discoveries.
Love and Peace,
Kathleen Trewhella-Grant
Executive Director