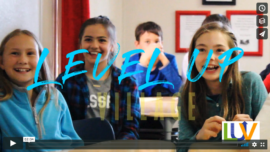 Five Oaks Academy is the first in the Upstate to launch the Level Up Village (LUV) program, a global S.T.E.A.M program. LUV delivers pioneering global Science, Technology, Engineering, Arts and Mathematics (S.T.E.A.M) enrichment courses that promote design thinking and 1-to-1 collaboration between students around the world.
Our sixth graders piloted three programs this year: Global Conversations: Doctors DNA, Global Conversations: Malala Yousafzai, and Global Conversations: The Giver. One of the unique aspects of this global program is the partnership our students form with students living in a third world country.  The units begin with the students preparing online video profiles in shared portals, which are developed through inquiry-based questions. They exchange their personal profiles and continue to communicate and collaborate together on unit projects (again using video) for 5-8 weeks, essentially creating a digital penpal. This video shows our 6th-grade students experiencing their first live group Skype with their partner school in Ghana for the Level Up Village course "DNA Doctors".
When a LUV student kit is purchased in the United States, the money from that purchase sponsors a student in another country who lives on a household income of $1.00 a day or less. It For the first two programs, our students were partnered with schools in Ghana. For the third program, our students were partnered with a school in Colombia.
As the sixth-grade students embarked upon their first LUV course, we sat down with them to get their thoughts on this program. Stella, a participating sixth grader, said: "I can't wait to get to know someone my age from a different country and understand what their life is like — and not just the stereotypes." So far, Stella has learned that her partner likes to cook and loves cats. There is so much more to explore, but a personal connection and bond have taken root, and that's the whole point. Even at her young age, Stella sees the ultimate reward,"This will broaden my international perspective."  Spoken like a true global-ready learner!
We would like to thank FOA's Annual Fund for supporting the piloting of this program. We look forward to rolling LUV out to our elementary levels and up next year!