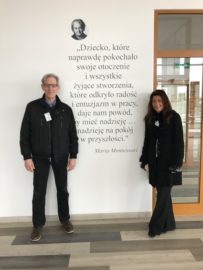 I was asked to lead a three-day Montessori Leadership Seminar with Dr. Paul Epstein, sponsored by the Polish Montessori Institute in March. Before beginning the seminar, I had the opportunity to tour the city and visit several Montessori schools. My observations were that Poland was a fascinating mix of the old and new. Since freeing themselves from communist rule in 1989, they have emerged as a modern, creative and entrepreneurial force in all areas of growth. Their cities have been rebuilt and areas like the old town, which used to have only one restaurant under the communist regime, is now blooming with all types of innovative cuisines.
Their emphasis on food was fresh and sustainable with an influx of cuisines from around the world. In a formerly old factory building, now stands an improved and newly renovated building that houses a sushi restaurant, a beer garden, a place to enjoy French crepes, delicious fine dining, Polish traditional fare, and even a tea market. The culture definitely appreciates fine food and beverages.
Before presenting five individual sessions at the 3-day Montessori seminar, I had the amazing opportunity to visit Montessori schools in the area and was surprised by all of them. Some were brand new, modern, and chic while some updated older spaces to look brand new. One looked like a traditional "forest" school. They are all experiencing growth in their programs and wanted advice on rapid expansion. My experience in Montessori education and the rapid growth experienced at Five Oaks Academy made me a great resource to exchange ideas and answer many excellent questions.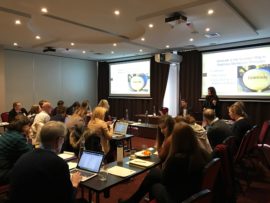 As an SCMA Board Member, I have also seen the same type of growth explosion in my own state in Montessori education. South Carolina currently holds the lead in Montessori schools in the United States. Aside from touring their beautiful facilities, learning about the quality of their educational development, and experiencing their thirst for improving Montessori in Poland… it was a truly heartwarming experience for me. The educators who attended the 3-day Montessori seminar were anxious to learn practical details about running a school as well as new best practices for a Montessori school. I enjoyed giving presentations on brain research and the connections between resilience, grit, happiness, and gratitude and how that can improve learning and school guidance. I received such positive feedback throughout my three days of teaching; it leaves me with thoughts of wanting to return to Poland to share more.
It's rare that I get the chance to consult with a group of people who are so thoroughly committed to Montessori. The group I consulted with shared stories of grit and perseverance that allowed them to break through many obstacles when attempting to make Montessori education more readily available for the students of Poland.
I am fortunate to have met such a resilient and grateful group of educators who have defined "True Grit" as they advance Montessori education in their developing country.
Peace,
Kathleen Trewhella-Grant, Executive Direc