The STEAM and Art Show is always a highlight of the school year, offering a chance to celebrate the students' creativity and exploration. Families were able to visit and tour the exhibition alongside their children on Thursday, April 7, 2022. Colorful paintings pinned up along the breezeway are always a hallmark of the experience, while Middle School artwork was featured inside the main house.
Five Oaks Academy provides art exploration and instruction to Primary students through Middle School students with two distinct curricula: Art History and Creativity. Ms. Jill and Ms. Sarah guided the kindergarten through fifth-grade students in studying "Art of the Americas" this year, including artists such as John James Audubon, Frida Kahlo, and Jonathan Green (among others). Students created self-portraits, landscapes, bark paintings, and bird studies inspired by masters.

Within the Creativity program, Ms. Amy and Ms. Sarah guided the 3K students through fifth-graders in process-based explorations of color, emotion, texture, and line. The Upper Elementary students created a collaborative piece that was printed onto fabric to colorfully welcome visitors to the STEAM show. Finally, Middle School students explored resist techniques, low-relief paper collages, art therapy, realistic pencil drawings, captured motion drawings, tessellations, and perspective.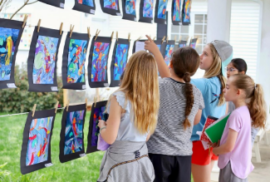 The newer outdoor areas at Five Oaks (such as the courtyard tent, amphitheater, and Discovery Deck behind elementary) allowed for STEAM displays from every age level and featured field guides from nature studies, microscope exploration, book reports, biography projects, "Imaginary Island" designs, and invention projects. Middle School students showcased the 8th-graders' Legacy projects, in addition to the work they completed to certify our campus deciduous forest with the National Wildlife Foundation. Meanwhile, musicians and vocalists of all ages entertained guests by providing background music in the amphitheater.
Five Oaks Academy was proud to be the first Montessori and STEAM-accredited school through SCISA (South Carolina Independent Schools Association), and we look forward to another year of creative exploration and STEAM-based inquiry at Five Oaks.