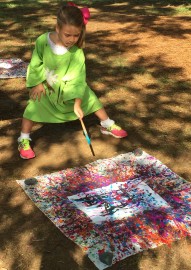 The Kindergarten and Elementary students are learning about Jackson Pollock, an influential American painter and a leading force in the abstract expressionist movement, in Art History.  Pollock was well known for his unique style of 'drip and splash' painting.  Last week, students learned about his life and the impact he had in the art world. This week, the excitement is in the air as they replicate the process of his famous drip paining.
The 'drip and splash' style, which many believe he introduced to the art world around 1947, were created on canvas laid out on the floor rather than fixing them to an easel or wall. From there, he used a style where he would allow the paint to drip from the paint can. Instead of using the traditional paint brush, he would add depth to his images using knives, trowels, or sticks. At times, random objects would fall onto the wet painted canvas and he allowed them to become a part of the work. This form of painting, known as "action painting," had similar ties to the Surreal movement, in that it had a direct relation to the artist's emotions, expression, and mood, and showcased their feeling behind the pieces they designed. He was nicknamed "Action Jackson" because of the dynamic movement he used in creating his artwork.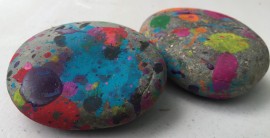 The students loved the action while creating their very own 'drip and splash' painting, just like "Action Jackson"! The mess and fun was abundant! Even the rocks around the painting got in on the action!