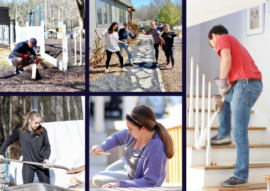 A special thank you to all of the volunteers who showed up and worked SO hard during our Spring Community Day! We accomplished so much and had a blast doing it!
Our many volunteers: replaced all stairs in the Main House (many of which were broken), laid a stone walkway next to P2 to help with drainage issues and create a path for the students to walk on, installed attic stairs in both LE classrooms providing much-needed storage, counted money from Coin Challenge, worked on the Art Show, moved the playground gate, repaired broken spindles, painted the new fence in front of the school, cleaned windows, fixed chairs, repaired broken classroom furniture, and much, much more!
We are so grateful for our supportive FOA a community that comes together to GET IT DONE!