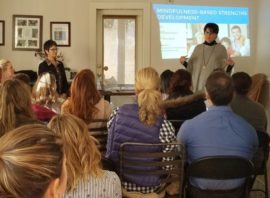 We all want our children to be successful but what exactly does that mean and how do we guide our children towards success? Humans generally feel successful when they know they excel at something. Certified Gallup Strengths Coaches Chandra White and Renee Anderson from WellSmart Solutions recently spoke to the FOA community on the topic of "Strengths". They provided us with insight on how parents can start on the journey to guiding their children in discovering and developing their unique strengths while focusing on their own as well.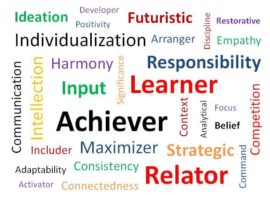 Chandra and Renee began their session with the definition of talent and the relationship between talent and strengths. They explained that talents are naturally recurring patterns of thought, feeling or behavior. Strengths are simply talents that are developed and can be productively applied. It is our job as parents to help our children "lean into" and develop their natural talents so they become strengths, thus leading them towards excellence or success. They stressed that while guiding your child toward success you want to look at what is right, not wrong, with them. This starts with recognizing your child's unique talents and simultaneously letting go of pushing them to be who they are not. Begin by noticing what they are naturally good at doing as well as what they gravitate towards automatically. Another indicator of a strength is when an activity leaves a child energized.
Furthermore, Chandra and Renee explained that when parents focus on using their child's natural talents and develop them into strengths, they can use the child's strengths to manage their weakness much better. One example given was if a child hates math facts but is "competitive", a parent can use their child's competitive strength to create a math game to practice their math facts, thus making it about winning the game and not about the math facts. Another example was if a child struggles in reading and has "determination" as a strength, a parent could emphasize the child's determination to push through difficult work. Shifting the focus makes it no longer about reading, but about the child's determined spirit. It is important to note that the research indicates that a weakness will never become a talent or strength so it is best to point your child towards the management of their weakness versus expecting excellence.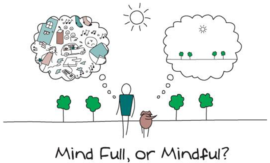 Renee walked us through what it means to be mindful versus "mind full". She emphasized how adding a mindful practice of only 8-10 minutes a day can help the mind by improving the working memory, focus, concentration as well as reducing anxiety and depression and the body by increasing energy, improved stamina, and reducing pain and inflammation. Yoga and meditation are two types of formal mindful practices that are beneficial. She also encouraged informal practices such as self-awarenesses where you are deliberately paying attention while driving, showering, or washing the dog.
As parents seek to develop talents into strengths, it is important to notice the natural talents, encourage them to develop in their child and then help the child share them with the world. It is then that the child will feel truly successful. Pairing a child's strengths with a mindful practice will enable them to not only feel successful but live a healthy and purposeful life.
We look forward to having Chandra and Renee back for future parenting workshops! They have amazing knowledge and a passion for helping people discover their strengths so they can live the best life possible!