Katie Heisey – Former Reading Interventionist and Sign Language Instructor – Katie had a beautiful son in April and will not be returning to FOA as we make new changes to our Reading Program to incorporate more internal Montessori method and structure.
Sami Schroeder – Former Middle School Directress – "When my family and I moved to South Carolina six years ago, we didn't know a single soul.  That quickly changed once I began working at Five Oaks Academy.  Here, I've made friends that have become family.  In kind, I have absolutely loved my Middle School students, every single one; they have brought me such joy and inspiration, and I have learned alongside my students for the past six years.  I will be joining the Upstate Homeschool Co-op as their Learning Differences Administrator, but it is with a bit of sorrow that I say goodbye to Five Oaks Academy and the dear community that's helped this Midwesterner navigate the South.  Thank you to all of my students, families, friends, and colleagues; you've impacted my life in many ways."  – Ms. Sami
Jennifer Amick – Community Relations Director and CARE Team Member – "One of my favorite things about Five Oaks has always been the strong sense of community. We work hard to build great relationships with our families, students, and staff, which makes our school feel like a second home. I'm excited to start a new role at Five Oaks in the 2023/2024 school year as the Community Relations Director after spending 22 years in the classroom. While I am thrilled about embarking on a new role, the Primary Program will always have a big piece of my heart, so I am grateful that I will also continue to be the Lead Primary Program Directress. Another new opportunity for me will be working alongside the C.A.R.E team as the Literacy Developer to assess the reading needs in the Primary and Lower Elementary Programs. I'm looking forward to working with the administration team, as well as the families, students, and staff at Five Oaks to further the school's mission." – Ms. Jennifer
Ashapurna Ganguli – Primary Directress – Ashapurna, a certified Primary Directress, returns to Five Oaks Academy as a full-time Primary Directess.  She led FOA's Pre-Primary classroom for several years and she previously taught the Primary Program Science lessons.  We are so glad to have Ms. Asha back in a full-time capacity!
Eleanor Shull – CARE Team Member & LE2 Directress –  "I am looking forward to returning, after my maternity leave, and will continue to support the Lower Elementary 2 classroom.  I will also be taking on a new role in the C.A.R.E. program and I am thrilled to work with Jennifer and Andrea to develop a Montessori-based reading support program for the Lower Elementary program.  I can't wait to integrate my love of working with children and my passion for teaching reading at Five Oaks Academy." – Ms. Eleanor
Dawn Turner – Lead Primary 1 Directress – Dawn joined Five Oaks Academy in 2007 and currently serves as a Primary Directress in Primary 1. She holds an AMS certification in Primary from North American Montessori Center (NAMC). She taught previously at Montessori West.  Dawn will be taking on the new role as Lead Primary 1 Directress and will collaborate with Jennifer Amick, who will continue her role as the Primary Program Lead for both P1 and P2.  We are excited to have Ms. Dawn in this classroom leadership role!

Catherine Haskell – Lead Lower Elementary II Directress – "I am happy to share that I have accepted the Lead Lower Elementary Directress Position in Lower Elementary 2 beginning next school year.  While I will miss the LE1 team of teachers and students, I am excited to begin a new journey at Five Oaks Academy." – Ms. Catherine
Kelly Gantt – Lower Elementary I Directress – "Being a part of the leadership at Five Oaks Academy is very fulfilling, but I realize that I need to find a balance between my personal and professional worlds.  It is so important to me that I am giving my best to both my family and my students!  With these considerations, I feel it is best that I step down from the LE2 Lead Directress role and follow my passion for teaching and guiding my students."  – Ms. Kelly
Savannah Tolbert – Lower Elementary II Directress – Savannah, currently a Lower Elementary 2 Assistant Directress, is currently completing a Master of Education in Montessori Education from Lander University.  She will become a Lower Elementary 2 Directress for the 2023-2024 academic year.  We are excited for Ms. Savannah to take on this new role!
Jamilah Wilkes – Lead Upper Elementary Program Directress – For the 2023-2024 academic year, Jamilah will serve as Lead Upper Elementary Directress. Jamilah earned her Bachelor Degree in Early Childhood Education and Master of Elementary Education degree, both from USC Upstate. Jamilah is Montessori certified in Early Childhood Education from MTTI and has obtained her Masters +30  from Lander University with her Lower and Upper Elementary certifications.  Everyone loves Ms. Jamilah and we are proud to have her as part of our faculty!
Rachel Siglin – Middle School History Directress and Music Program Directress – We are excited to welcome Rachel to the Middle School classroom where she will be assuming the role of History Directress. She will continue to provide invaluable direction to the Classical FOA Music Program that has evolved during her two years with us.  Ms. Rachel will be a wonderful addition to the Middle School Teaching Team!
Valerie Full – Middle School Assistant Program Director – Valerie will assume an additional leadership role in the Middle School as Assistant Program Director.  She will continue her role as a Classroom Directress as well as STEAM Program Coordinator.
Sinead Kozub – Office Coordinator – After working as a substitute for the Front Office and also on several projects throughout the current school year, Sinead will join the Administrative Team for the 2023-2024 academic year specializing in After School Studios, Summer Programs, and Sycamore.  We are excited to welcome Sinead to the FOA Team!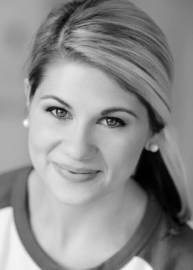 Jessica Smith – Music Program Directress – Jessica Smith is thrilled to be joining the Five Oaks Academy family as a Music Program Directress. Jessica spent her young adult years singing and performing at Walt Disney World and Universal Studios Orlando. She now resides in Greenville with her husband, two-year-old son, and their two dogs. She teaches at the South Carolina Children's Theatre and is getting ready to graduate with her Bachelor's degree in Early Childhood Education. She is very passionate about music, children, and education, so naturally teaching music is her dream come true. She is looking forward to this wonderful opportunity.