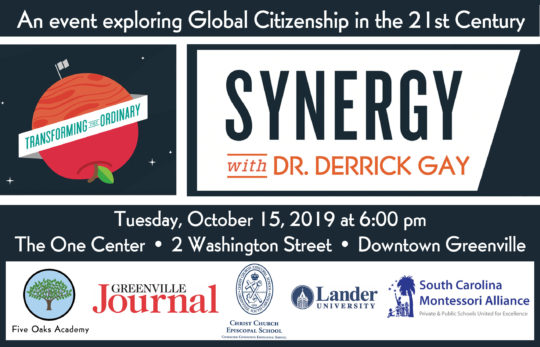 Five Oaks Academy has partnered with other educational institutions as well as the Greenville business community for a special community-wide educational event, "Global Citizenship: Preparing Students for Success in the 21st Century" featuring Dr. Derrick Gay. Dr. Derrick Gay, an internationally recognized consultant to organizations both domestic and abroad, will address the importance of this generation's understanding of our interconnected global society. To address this topic, he will focus on issues including Cultural Competency, Inclusion, Diversity, and Global Citizenship that will help prepare students for success in the 21st century.

Dr. Gay has been featured in The New York Times, The Washington Post, 60 Minutes, and on New YorkPublic Radio just to name a few. His Ted Talk "Why Elephants Hold the Key to Success in the 21st Century" has enlightened audiences around the world on the challenges facing students today. He collaborates with thought leaders to cultivate cultural competency, promote empathy, and deepen inclusion in educational and business settings. Global citizenship is a key factor in creating successful businesses and in basic everyday interactions in an ever-changing world.  

We hope this "Synergy" event will inspire and educate our fast-growing international Greenville community. It is free and open to the public. Please join us for this empowering community event!  Seating is limited to less than 300 at the Greenville One Center. To register, go to https://www.fiveoaksacademy.com/synergy2019.