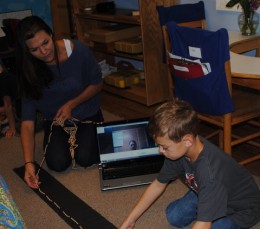 Five Oaks Academy's 1st grade student Chase Hanning had the opportunity to be with his father during the Lower Elementary Doughnuts for Dads on September 22, 2011 through the use of Skype, a software application that allows users to make voice, video calls, and chats over the Internet.   Chase's father, Craig, is currently in Afghanistan.
Craig has been in Afghanistan since August 2011 and has not had the opportunity to see Chase's new classroom.  Chase was able to show his dad where his cubby was located and where he eats lunch everyday.  Chase then showed his father his latest math work, a thousand bead chain which stretched out across the classroom floor.    Craig was able meet the classroom pets guinea pig Ziggy and bearded dragon Puff!   Craig made sure to eat a giant chocolate doughnut, just like all the other dads.  Later in the morning, Chase's friends all gathered together as they located Afghanistan on the classroom wall  map.
We are continually impressed with how technology allows us to communicate with people across the world and so glad that Craig was able to be a part of our school's celebration.