Article written by Allessandre Ponzini, Eighth Grade Student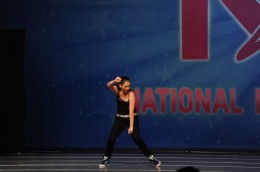 In October of last year Maya Roberts, a Seventh grade student at Five Oaks Academy, participated in a dance convention in Greenville, South Carolina called 'Monsters of Hip-Hop'. Participants auditioned in groups initially, then competitors were eliminated in several different rounds until the final cut. Maya was named as one of the two final dancers remaining and she won a scholarship to a dance studio in North Hollywood, California. This summer she redeemed the scholarship worth a full week of as many classes as she wanted to take at the Millennium Dance Complex.  Several famous performers such as Britney Spears and Justin Timberlake have practiced at this studio. Every afternoon and for several hours a day, Maya attended dance classes.
At most studios, dancers pay for a semester of lessons, but at Millennium they pay for each class separately. Since Maya had a scholarship, the classes she took were at no cost to her. There were classes available for children, but Maya found these classes less challenging and was allowed to take the adult classes.  Maya said the trip was a great experience and she is glad she was able to have that opportunity.