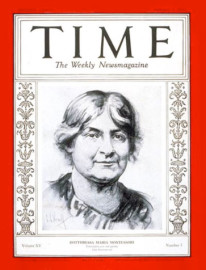 Over 100 years ago, Dr. Maria Montessori, an Italian physician and educator, began a revolution by calling for a transformation in education using science as a means to developing new educational methods.
Dr. Montessori's innovative approach to observing children through the lens of a scientist resulted in her developing a method of education, the Montessori method, that was based on human development and the needs of children at different ages. Her findings provided educators with a new understanding of child development. She discovered that students thrive in an environment that stresses the development of a child's individual and natural abilities, promotes respect towards the child, provides a stimulating curriculum with hands-on learning materials, and allows choices and independence within structure.
There are now more than 22,000 Montessori schools in at least 110 countries worldwide. We are thankful for the opportunities this educational method offers our students. Our governor, Henry McMaster, has continued the tradition of recognizing "Montessori Week" by signing the State of South Carolina Governor's Proclamation that proclaims February 26 – March 2, 2018, is  Montessori Education Week. This week is celebrated by several thousand Montessori schools worldwide each year!
This year, The FOA Parent Teacher Organization (PTO) celebrated this week with a variety of school spirit activities that gave students the opportunity to celebrate our special school. Additionally, FOA hosted ten Polish Montessori educators and administrators to share and affirm the Montessori method on an international level.