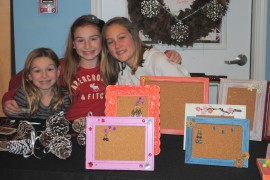 Please join Five Oaks Academy for our 7th Annual Artists' Bazaar! We will host this event in the house on November 29, 2012 from  2-7 pm. Artisans from our local community will sell handcrafted items. There will be unique items such as altered clothing, jewelry, soup, printmaking, aprons, picture frames, holiday decorations, banners and much more! A portion of the proceeds will go towards FOA's Guest Artists Fund. This fund enables us to bring locally and nationally renowned artists to campus for student workshops.
In addition to all of the Artisan items, the Lower Elementary classrooms will be selling student-made crafts. All proceeds from these items will go to Amman Imman, a non-profit organization that raises money to build wells in the Azawak Valley of Niger, Africa.
From 5-7 there will be an adults only shopping time where wine and light hors d'oeuvres will be served. Bring a friend and get a head start on your holiday shopping!