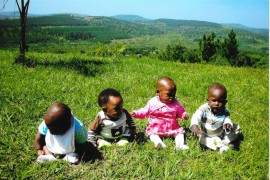 At Five Oaks Academy, we have a mission to become lifelong learners. As educators, we encourage growth in ourselves through conferences, book studies, and continuing education. It is also important to us to provide parents with meaningful learning experiences such as the Parent Lecture Series, the Adult Artisan series, and special guest speakers. We strive to instill this passion for learning in our students as well. We show our students by example that learning does not end when you leave a classroom. Many of our teachers do extraordinary things outside the walls of our classrooms. Ms. Caroline Sellars, a Lower Elementary Assistant Directress, has volunteered to share her time in Uganda that has had a changing effect on her life. Her adventure, written in her words below, will leave you feeling both inspired and grateful for the many privileges we take for granted.
On June 30, 2015, I deplaned at the Entebbe International Airport in southern Uganda, just a few miles from Lake Victoria. Even at 10:30 pm the air was hot and muggy as I paid for my entry visa and handed over my passport to the immigration officer. Two stamps and a fingerprint scan later, I pulled my bags from the carousel and spotted a tall man holding a piece of paper that read: "Watoto, Caroline Sellars". My month volunteering at the Watoto Babies Home had officially begun.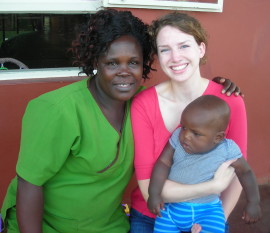 Watoto is an organization founded by Canadians Gary and Marilyn Skinner. They first came to Uganda in the 1980's, in the midst of war and extreme political unrest. What started as a small church in the capital city Kampala is now a network of churches and ministries scattered throughout the country. Their outreach programs provide education and work opportunities for women affected by the LRA wars in recent years, as well as schooling and care for children, some of whom are former child soldiers. They operate two Babies Homes, a northern site in Gulu and a southern site called Suubi, where babies ranging from newborn to toddler age are brought to receive care. Some babies come because their families have a difficult time finding food for them, and they just need a nutritional boost to help them back to their ideal weight. Others are brought in for specialized surgeries that traditional hospitals in the country cannot accommodate. Most, however, come from hospitals where they've been abandoned, or are found in garbage dumps or pit latrines. Quite often these babies remain in the care of Watoto throughout their childhood, graduating from the Babies Homes and placed with a family in the children's villages, then eventually learning a vocation or going to college.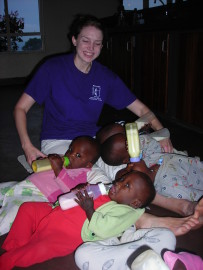 As a volunteer at the Suubi Babies Home, my job was to help the nannies take care of these babies. The nannies—all of them Ugandan women—are each responsible for four babies. In orientation, the Babies Home supervisor said that the nannies are the mothers, and we volunteers were the aunts. As aunts, we would be washing bottles, helping with feedings, changing sheets, changing diapers, folding clothes, helping with baths, and anything else the nannies needed. I was placed with one other volunteer in the "Tiger Room", which had nineteen babies aged seven to twelve months, approximately. Every morning at 7:00 we walked downstairs from the shared apartment  for volunteers and went straight to work. First we took every baby out of his or her crib and gathered them together for the morning feeding. The nannies traveling to the Babies Home from Kampala didn't arrive until after 8:00, so we had to divide the babies between us and the night workers to feed them. We would sit on the ground with our legs out in a V, and line up six or seven babies next to us with their heads resting on our legs. The most I ever had at once was eight babies during an afternoon feeding, and one of the nannies said to me, "You are an African woman now." Then one volunteer would wash the bottles in the sink while the other changed all the crib sheets. After that it was time for porridge, and then the morning bath. The babies then took a morning nap and spent the rest of the day rotating between eating, playing, and sleeping until it was time for bed. On a normal day, volunteers finished at 3:30 and were free to wander from room to room, playing with the babies and taking them for walks around the village. But if a nanny was on leave or out sick, a volunteer would be drafted to fill in as a "mommy" for that nanny's babies all day. Those were the nights I crashed into bed at about 8:15.
Our role as volunteers, however, extended beyond basic childcare. In Ugandan culture, people do not interact with babies the same way as here in the West. Activities that we take for granted, like playing, singing, hugging and kissing your baby, or simply making frequent eye contact with your baby throughout the day are simply not done in their culture. Play and loving touch are proven again and again to be essential to children's emotional and physical development, so as volunteers we were expected to help the nannies in this respect as well, setting an example in the way we played and interacted with the babies. That way, the supervisor told us, the babies would receive the best of both in the realm of childcare: Western affection paired with the Ugandan emphasis on independence.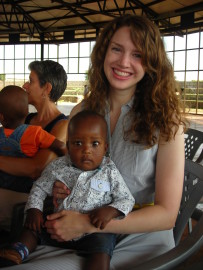 Throughout my stay, I was blessed with opportunities to spend time with all the babies, from the nursery infants to older toddlers recently placed in the children's village. I played with a toddler who was born with his bladder on the outside of his body and is awaiting surgery, and I did a kangaroo hold one night with a new arrival who at two months old weighed only three pounds. I carried a different baby up to church every Sunday morning and held them during the service. I watched a baby crawl for the first time and ate lunch with young women who grew up as Watoto children. Uganda gave me new appreciation for so many things in my life. I came home thankful for the safety we have here in the US; the simple fact that I don't have to have my bag searched before walking into a grocery store here at home is something I will not take for granted. As a woman I'm thankful for the freedoms and independence I have here, like education and the ability to walk on a sidewalk without fear. More than anything, I learned to be thankful for the children and babies in my life, and how very important it is to show them love at every possible opportunity. I will always carry that with me, especially after seeing what can happen when that love isn't displayed. It seems so obvious to us, but it bears repeating: hug your babies, kiss your babies, smile at your babies, play with your babies. It is a miracle what a difference it makes.  It was an experience I will never forget, one that I hope to have again someday.
Written by Caroline Sellars
For more information, visit www.watoto.com/babywatoto