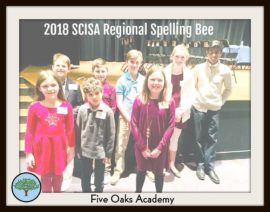 Congratulations to the students from FOA's Lower Elementary, Upper Elementary, and Middle School classrooms who participated in the SCISA Regional Spelling Bee on January 24, 2018. They all did an outstanding job!!
The participants are:
LE: Gabriela and Ethan
UE: Maddie, Reece, Mac, and Chance
MS: Zoe and Ranjan
Good Luck to Zoe, Ranjan, and Reece! They qualified to compete in the SCISA State Spelling Bee on February 21!
(Photo Credit: Erin McCall, FOA Parent)
FOA Students Participated in the SCISA Regional Spelling Bee on January 24