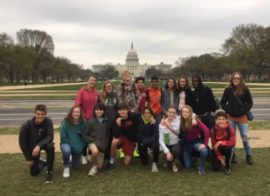 This year our eighth-grade Middle School students chose Washington, D.C. as their destination for their annual graduate trip.  This trip is decided, researched, and planned entirely by the students with support, advice, and guidance given from teachers when necessary.
The students researched then booked the transportation (this year by train), hotel accommodations, and other activities.  They voted on their top choices of museums and activities.  Some of the sights they saw were the Museum of Natural History, Holocaust Museum, National Art and Space Museum, American Art Museum, and the Renwick Gallery. "The students were so impressive in their level of maturity and responsibility on this trip. It was evident that they put a lot of hard work into planning the museums and activities that complimented their interests. Our students were engaged during the tours of each museum and handled some very tough American and world history events with dignity and respect," observed Ms. Jessica, trip chaperone.
It was a wonderful trip full of bonding with good friends that they will never forget!