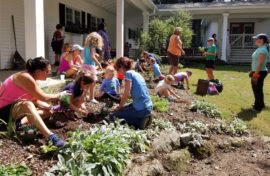 FOA held the first Community Day of the school year on Friday, September 21. As a small school, it is hard to get everything done around campus and in the classroom. Our community members of students, parents, and faculty members came together and GOT IT DONE!!!  It was such a wonderful day of hard work, sweat, laughter, and, community building!
We would like to thank all of the volunteers who spent their valuable time with us on this fun and crazy day! We accomplished so much more than we ever could have on our own. It takes a village to raise a child and it takes a village to keep a small school looking good!
An additional thank you to the following business for your generous donations that helped make this event a complete success:
Jet's Pizza for donating pizza to all of our hardworking volunteers at lunchtime, Flatrock Family Dentistry for providing popsicles to our hot student, parent and teacher volunteers, Charlene Panek, C. Dan Joyner Real Estate for keeping our volunteers hydrated with cold waters, Arbor Master Tree Care (Stephen Swafford and team) for bringing your awesome truck to our campus, Lowe's Home Improvement for 50% off of everything we purchased from them, The Home Depot for donating the supplies to build the Gaga Ball pit, and Felicity's Flowers & Design for donating donated flowers for our students to plant and make our campus beautiful
We would like to thank our 2018-2019 Title Partners for their support of all our school events!