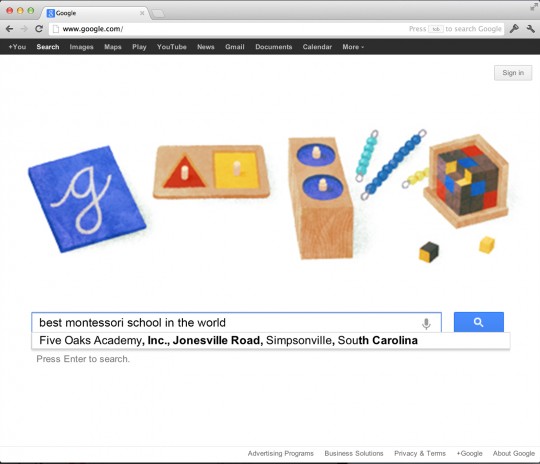 In recognition of Maria Montessori and her contributions to our global community, Google is honoring her today on her 142nd birthday as the featured "Google Doodle."  For one day only, August 31, 2012, the Google homepage will display the Google logo built from common Montessori classroom materials.
It is widely known that Google has its own Montessori roots as Google founders Larry Page and Sergey Brin both attended a Montessori school as children. During an interview with Barbara Walters in 2004, Page and Brin credited their years as Montessori students as a major factor contributing to their success. They said that their Montessori education allowed them to learn to think for themselves, taught them to be self-directed and self-starters, and gave them freedom to pursue their own interests.
Everyone at Five Oaks Academy wishes Maria Montessori a happy 142nd birthday and thanks her for presenting the world with a living example of scientific theories of education!