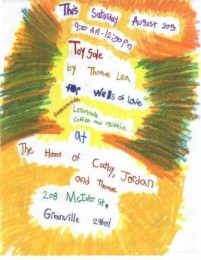 Thomas Lea, Second Grade Student at Five Oaks Academy, held a Toy Sale on Saturday, August 20, 2011 and raised $318.40.  Friends, family and neighbors of Thomas joined him at this event. There was delicious food, fun, and toys.  It was a huge success!
The proceeds from this sale were donated to Wells of Love, the service learning program of Amman Imman.  Amman Imman is dedicated to empowering the world's most under-served and vulnerable indigenous populations by addressing their most essential needs.  Serving as a conduit between these populations and the rest of the world, Amman Imman raises awareness and engages individuals of all ages to take action.   Since 2006, Amman Imman has been supplying permanent sources of water in the Azawak of West Africa to save and improve the lives of the people living there.  Amman Imman has funded three wells, however, the Azawak needs many more wells and your students can be leaders in this grassroots cause. Please visit  www.wellsoflove.com  for additional information and resources.

Thomas said, "I learned that sometimes it is easy to make a big difference!" Five Oaks Academy is continually impressed and inspired by the initiative and enthusiasm of our students. Their compassion toward others is extremely admirable. We are so proud of all of our students!