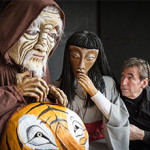 In January, the Lower Elementary students went to the Peace Center to see Doug Berky's GEMS: The World's Wisdom Stories. Doug Berky is a one of a kind storyteller who takes a unique approach to conveying a story to his audience.  His belief that a story should be seen as well as heard is demonstrated in his vivid visual performances using many different types of theater. A mix of puppetry, mime, mask theater, clowning and circus arts are all a part of this one man show. Doug makes his own masks, writes his own scripts, choreographs his own shows, and designs and builds the sets.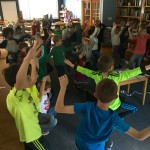 To prepare the students for this special experience, Abigail Ehlies, a teaching artist from the Peace Center, came to the Lower Elementary classrooms in early January for pre-show lessons and activities. During this interactive lesson, she read one of Aesop's Fables and taught the children how to present scenes through tableaux, the art of making still images with bodies to represent a scene.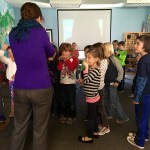 On the day of the performance at the Peace Center, Doug Berky took the Lower Elementary students on a journey through different time periods and cultures from around the world using his unique storytelling approach. The Lion and the Mouse, a classic Aesop fable from Greece; The Lame Man and the Blind Man, A Sufi tale from the Middle East;  and The Drip Nose Boy, a Native American (Apache) tale, were brought to life during his performance. Our students were captivated by his energy and creativity as they explored these popular historical pieces of literature.
This experience enhanced the rich cultural and literary programs at Five Oaks Academy. Field trips are one of the fun and wonderful ways that we connect our students' lessons to the world around them.