Article by Ms. Rachael Cross, Music and Movement Instructor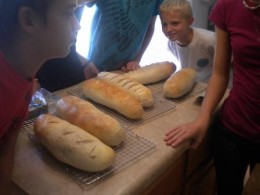 Mmmmm – everyone loves the smell of freshly baked bread!  This year I wanted to pass on that tradition to the next generation by giving them a skill that mustn't be lost. In groups of five or six, the middle school students have come to my house to make bread. We're starting with Rustic Italian bread, and we will continue with other types. To start the process off, a yeast experiment was done to show the science behind the rising of bread. Then it was off to the kitchen to reproduce that experiment in the bread itself.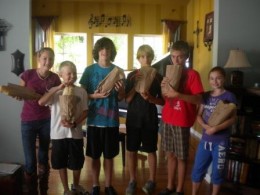 The process of baking fresh bread is simple, but time consuming. The students read the recipe, often written in cooking shorthand, and followed directions while learning that bread making is not an exact science. The bread making process also involves plenty of trial and error.  Too dry? Add more liquid. Too moist? Add more flour. Not smooth and satiny? Knead longer. Each student goes home with a loaf of fresh bread for his or her family to enjoy.  Up next will be Rosemary Foccacia just in time for those cold-weather meals of soup!