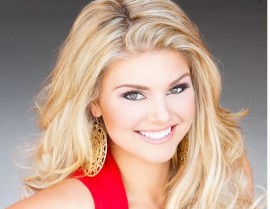 On Thursday, March 13 Miss South Carolina 2012, Ali Rogers will be a guest speaker for FOA's monthly Parent Lecture Series. Her presentation will be about the impact Montessori education has had on her life. Ali attended Laurens 55 Public Montessori school from Primary through Middle School.
Ali Rogers spent a year serving the great state of South Carolina. Her personal platform was Making a Difference for Children with Disabilities, and she worked with various organizations, centers, and groups across the state as an advocate and a voice for children with special needs. Ali traveled more than 60,000 miles as Miss South Carolina speaking to schools, civic organizations, and church groups. Ali was crowned Miss South Carolina in July of 2012 . She was the first runner-up at the Miss America Competition in January of 2013 and won the Miracle Maker Award for raising the most money for Children's Miracle Network Hospitals.
Ali is a communication studies major at Clemson University. In addition to her full scholarship, she has earned $63,000 in scholarship assistance from the Miss America Organization. She currently works in media production for the Clemson Football program, hosting the Death Valley Live show and the All In Highlight Reel. Ali plans to obtain a masters degree in the communication field.