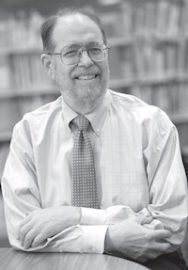 Five Oaks Academy was honored to host Montessorian and Author Dr. Michael Dorer on Thursday, February 2. Dr. Dorer has been involved in many roles within Montessori education for over 45 years. He has taught in classrooms ranging in ages from 2 to 14, been the Director of Montessori education at St. Catherine University, educated adults about  Montessori, and was the founder of a graduate level Montessori program at Westminster College, The Institute for Montessori Innovation. Dr. Dorer was internationally trained and holds many Montessori credentials including a Doctor of Education (Ed.D.) from Argosy University. We invited him to Five Oaks Academy to speak with parents and teachers about his recently published article in Tomorrow's Child Magazine and his latest book.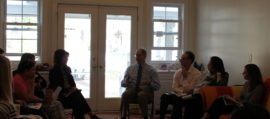 Dr. Dorer's day began with a "Coffee and Montessori" event where he met with parents to discuss his article, "Ten Essential Montessori Principles (…plus one)". Because Montessori is so different from what most people experienced during their schooling, many times it is hard to put into words exactly what it is (or is not). In his recent article, Dr. Dorer articulates ten essential principles of a Montessori program; respect, creativity, freedom of movement, freedom to choose, freedom to repeat, independence, mixed ages, holism, prepared environment, and planes of development (development occurring in distinct phases or levels) and why they are important to the Montessori philosophy. To read this article by Dr. Dorer, please view the January 2017 issue of Tomorrow's Child Magazine, https://indd.adobe.com/view/d863b138-93c6-4738-ad26-fa03a3574752
During his visit, Dr. Dorer also met with our teachers for a discussion on imagination and abstraction as key components to learning during the elementary years.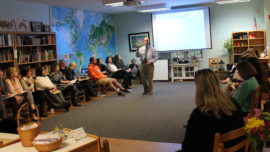 To finish out his visit, Dr. Dorer met with the entire faculty and gave a presentation based on his new book, The Deep Well of Time. This book delves into the importance of storytelling for memory and learning.  This lecture was both entertaining and thought-provoking as Dr. Dorer took on the persona of many characters and brought them to life.
We enjoyed Dr. Dorer's time on our campus! Five Oaks Academy believes we are all a community of learners and we strive to have meaningful learning experiences for our faculty.