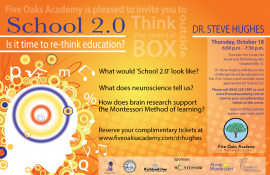 Five Oaks Academy is thrilled to announce that Dr Steven J. Hughes, PhD will be speaking for our Parent Lecture Series on October 18th. Prior to his visit to Five Oaks Academy, Dr Huges will be keynoting at the upcoming conference for the South Carolina Montessori Alliance (SCMA). In March, He will be a speaker at the American Montessori Society (AMS) conference.
Based out of London, Dr Steven J. Hughes, PhD, LP, ABPdN is a board-certified pediatric neuropsychologist who specializes in assessment and treatment planning for persons who have problems with attention, concentration, organization, planning, and related executive functions. He also consults with organizations about educational program evaluation, and speaks to groups around the world about developmental education, neurocognitive disorders, parenting, and other topics of interest to parents and educators. Hughes completed his PhD in clinical psychology at the University of Minnesota and his post-doctoral fellowship in pediatric neuropsychology at the University of Minnesota Medical School, where he served as a member of the faculty of the Division of Pediatric Clinical Neurosciences from 2001 to 2011.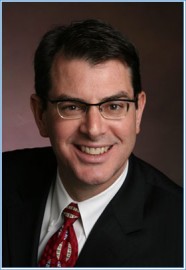 In his clinical work, he has specialized in neuropsychological assessment of children and adolescents with a wide range of learning, developmental, and medical disorders, and assisted in the supervision and training of future neuropsychologists. Himself a Montessori parent, Dr. Hughes has helped many families from the Twin Cities Montessori community understand their child's special educational or developmental needs. He is a lecturer at the Maria Montessori Institute in London, England, and the Montessori Training Center of Minnesota. He is also a frequent speaker at Montessori schools, regional and national conferences, and other events around the world.
His research interests include measurement of attention and executive functioning in children and adults, the effects of living in poverty on child development, and the neurodevelopmental benefits of classical Montessori education.  You can learn more about Dr. Hughes and his research by visiting www.goodatdoingthings.com.
Please put this amazing opportunity on your calendar. You will not want to miss this!
This event will be held at:
The Fountain Inn Center for Visual & Performing Arts
315 North Main Street
Fountain Inn, SC 29644
"Montessori is like education designed by a gifted pediatric
neuropsychologist!"

-Steve Hughes, Ph.D.