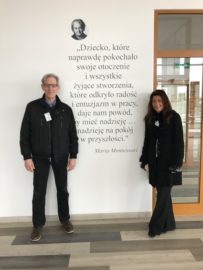 The distance between Warsaw, Poland, and Simpsonville, SC, is more than 4,800 miles, and the cultural differences between Poland and the United States can be vast, but for a group of Montessori administrators and educators who participated in a recent exchange program, their newfound bonds have made those miles and seeming differences feel insignificant.
It all started in February 2017, when Kathleen Trewhella-Grant, founding Executive Director of Five Oaks Academy, and Paul Epstein, Ph.D., a renowned international author and speaker on Montessori methods, were invited to present a three-day Leadership Series in Warsaw by the Polish Montessori Institute.   
More than 70 heads of schools from throughout Poland attended the training and lecture program.  
"The participants' enthusiasm for Montessori was amazing and their thirst for knowledge and continuous improvement was simply heartwarming," said Trewhella-Grant on her return.  She noted that the growth of modern Montessori schools is exploding throughout Poland, with the number of schools tripling in recent years, and more and more training centers popping up as well.    
Considering the growth of Montessori in Poland, Trewhella-Grant and Epstein were natural choices as speakers for the Leadership Series.  South Carolina has more Montessori schools than any other U.S. state, and the Polish administrators were anxious to discuss mutual experiences about the management of rapid expansion.
Trewhella-Grant and Epstein came away from the visit impressed with the innovation they saw, whether it was in city schools or small-town schools. For example, Trewhella-Grant notes that new modern schools are being built with distinctly clean designs and large open spaces for an enhanced learning environment, as supported by research on optimal school and classroom design.    
At the conclusion of the Leadership Series, the program received overwhelmingly positive feedback – so positive in fact, that Joanna Maghen, head of the Polish Montessori Institute, asked Trewhella-Grant if she and Five Oaks Academy would be willing to host a group from Poland to visit South Carolina.
"It's rare to consult a group that is so motivated, that shows so much gratitude and resilience," said Trewhella-Grant.  In others words, her answer was a resounding yes.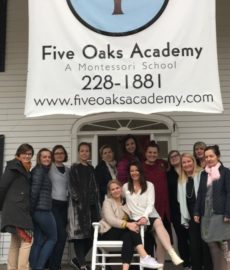 The timing for the exchange visit (beginning in late February 2018) was designed to coincide with South Carolina Montessori Education Week, which was proclaimed by South Carolina Governor Henry McMaster, and is a period to recognize both Montessori's promotion of respect among children and peace to humankind, as well as Montessori schools and educators for their contributions to South Carolina students.  
"The exchange visit was a way for us to celebrate Montessori Education Week in a very big way," said Trewhella-Grant.  "Through the commonality of children's studies, we are in fact fostering global connections and promoting international relations that enable us to understand one another better. It's extremely valuable for students and world communities as a whole."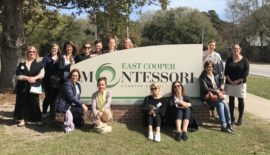 The group of 11 from Poland, including heads of schools, teacher trainees and teachers, arrived for their eight-day learning adventure bearing multiple gifts, ranging from a beautiful Polish tea set to books on Poland and handmade Montessori lesson cards.   Their packed agenda included a mix of lectures and training sessions, combined with classroom observations in Greenville, Columbia and Charleston, SC, as well as fun and sightseeing in Greenville and Charleston. In addition to Five Oaks, schools welcoming the Polish visitors included the private Montessori School of Greenville, hosted by owner Robin Bylenga; the private Montessori School of Columbia, hosted by Head of School Karen Kuse; and the charter school East Cooper Montessori, hosted by Principal Jody Swanigan.  
Kuse, of the Montessori School of Columbia, said, "Having the group of Polish teachers visit our school was a wonderful treat. The children noted that Montessori is global, music is universal, and people share common emotions, regardless of where they live."
As to preparations for the visit, she said: "Prior to their visit, our students learned how to say welcome in Polish and to identify Poland on the map. After welcoming the teachers to our school, many of our students have been noticing Polish artifacts or choosing to research Poland. In Montessori, we call this a 'Key Experience' — an exciting lesson or event that sparks an interest and facilitates further learning."
The feelings of accomplishment were mutual among the visiting Polish educators.  One of the participants said she felt "overjoyed" at the opportunity to experience the classroom environment at Five Oaks Academy and the other schools, noting she was particularly impressed with the U.S. schools' documentation of lessons, as well as the open and natural communication style with the students.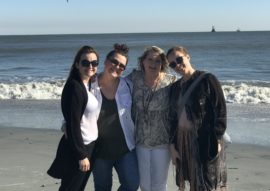 Among some of the sightseeing and cultural highlights for the visitors included shopping and eating in downtown Greenville; stops at Shem Creek and the Isle of Palms; a Charleston Harbor boat tour; and a BBQ farewell luncheon hosted by Five Oaks Academy.
The U.S. and Polish delegations remain in touch and look forward to future opportunities to work in tandem for the ultimate benefit of Montessori students in both their countries.
Susan S. Nichols is a freelance business writer and former B2B magazine publisher with more than 25 years media and marketing experience. She may be reached at Susansmarr309@gmail.com.