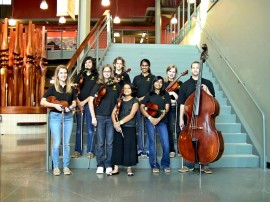 On Friday, October 19th, the A.R.M.E.S (Arts reaching Middle and Elementary Students) program came to the FOA campus to perform for the students and faculty. The ARMES program is a tuition-free gifted and talented arts program designed to meet the needs of students in grades 4 through 8 who have demonstrated outstanding talents and a deep interest in strings, theatre, visual arts or dance. The purpose of the program is to allow students to explore their chosen art form indepth while promoting individual creativity.
FOA's toddler directress, Miss Rosy, has a 13 year-old daughter who has played violin with the ARMES program for the past four years and is excited about performing for our community.
The ARMES Strings Chamber Music classes include four levels from beginner (students with no prior strings experience) to advanced.  Each class meets twice a week for a minimum of 90 minutes.  Student progression is based on mastery of each level's curriculum and goals and lots of practice and fun!  Each student learns solo, chamber and orchestra music and is encouraged to develop love of all music.
Ms. Eleonore Shults, the current ARMES Strings teacher, started out as a viola player in the first class of ARMES in 1991.  She now teaches ARMES Strings at the Greenville Fine Arts Center and runs her own private lesson studio.  She currently performs with the Greenville Symphony Orchestra.  Teaching the ARMES Strings Classes is her favorite part of the day.
To find out more about the A.R.M.E.S program visit their website at www.armesprogram.com.