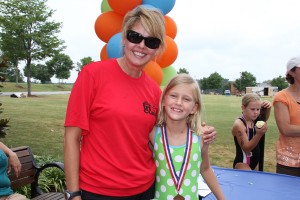 Upper Elementary student Kaitlyn Meade competed in the 10th Annual Tri to Cure Triathlon on August 13, 2011 as part of her Upper Elementary Summer Community Service Project. Kaitlyn's efforts and determination awarded her first place female in the 9-10 year old age division and fourth place overall out of 254 participants. In addition to her athletic feats, Kaitlyn raised $1,110 for the American Diabetes Association Camp Independence.
Tri to Cure is an annual non profit youth triathlon held at Furman University in Greenville, South Carolina. The event includes a 100 meter swim, 2.5 mile bike ride and ½ mile run. Tri to Cure was founded by Jennifer Bennett in 2001, after her son was diagnosed with diabetes. Over the past ten years the event has provided thousands of children a fun-filled athletic experience while allowing participants to make a meaningful difference in the lives of children with diabetes.
The money raised during the event goes to the American Diabetes Association Camp Independence, a summer camp in Greenville, South Carolina. The camp is designed to give children with diabetes a traditional camp experience while meeting their unique medical needs. While at camp, participants are educated about diabetes, learn care and advocacy strategies, and have the opportunity to bond with other children with diabetes. The camp also provides excellent medical resources, including nurses and endocrinologists.