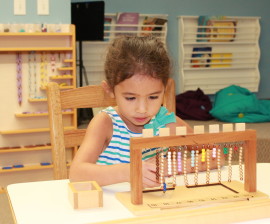 Learning is a hands-on experience in a Montessori classroom. Students learn using materials that engage their senses to gain a concrete understanding of concepts first before moving to a more abstract understanding of the material. This creates a solid base of understanding for students to build upon. The Five Oaks Academy Montessori curriculum is enriching and challenging. Our students explore the realm of mathematics, literature, history, science, geography and the arts in a creative and research based manner.
 In Montessori, the teacher facilitates the student's learning and students are given choices within structure. With the knowledge that each child has his own learning style, our students at Five Oaks Academy are treated as individuals with their own individual lesson plans. A 12:1 student to teacher ratio allows our teachers to be constantly observing and assessing their students' learning. This ratio also allows the student constant access to their teachers' support.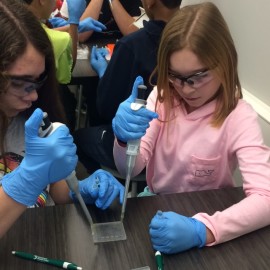 Along with our challenging academic curriculum, our program is designed to develop students' problem solving and critical thinking skills. We also foster the development of time management skills and help students learn to prioritize their responsibilities. Our students learn how to ask questions and how to find answers to their questions. Having the ability to problem solve, think critically, manage one's time, ask questions and find answers paired with a very strong academic background creates a student who is prepared for the 21st century workforce. Our goal is for our students to have success not only in the classroom but in the real world as well.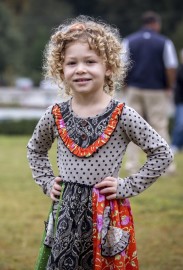 At Five Oaks Academy, we lead our students in discovering and developing their unique talents and possibilities. Most importantly, we strive to foster our student's curiosity and love of learning. They graduate with an incredible confidence in who they are, in their unique abilities, and in the contributions they can make to the world. We invite your child to join our educational journey.
 "The illiterate of the 21st century will not be those who cannot read and write, but those who cannot learn, unlearn and relearn" -Alvin Toffler