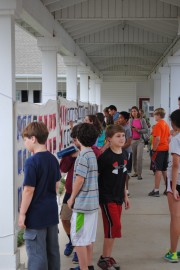 One of our Lower Elementary parents, Kelly Barnhardt,  has shared her experience with FOA's  Art Program and Annual Art Show on her blog.  Her blogs are wonderfully written and this particular blog post, "Heart and Soul",  is a testament to our art program. You can read more of her blogs posts at http://peekawhoo.com .
"On Thursday after the Boston Marathon, the kids' school hosted its annual art show, where all the students proudly display the work they've created under the tutelage of Jill, the school's amazingly talented and energetic art teacher. It's always such a lovely event, with art displayed all over the campus in the classrooms, in the office, on the walkways. Jill, an artist herself, is one of those remarkable teachers who is able to convey fact, technique, and fun, instilling a love and appreciation for the process and study of art.
Jill teaches the kids about the great artists, the great works-Degas, Monet, Van Gogh this year, Picasso and Leonardo da Vinci in years past. They listen, they learn, they emulate, they experiment, they create. They learn the rules so that one day, they can break them, they can move beyond and outside the lines and make their own magic.
These are good things, these paintings. The kids were proud to see their work displayed, to see their investments admired. Though kids may not feel the anxiety as acutely as adults, it's often difficult to release something you've made out into the world for fear of its critique or misunderstanding or that people just flat out won't like it. You're putting a piece of yourself out there-writing, painting, drawing, dancing, singing-these forms of creativity allow us to express ourselves in ways different from our typical greetings and correspondences; they bring beauty and perspective and form to emotion, to feeling.
In our home, we have lots of art. It's not necessarily fine or expensive, but it covers our walls. As a former Art History minor, the daughter of an artist, and someone often billed as "creative", I enjoy the study and history of art, its relationship to and critical foundation in the formation of culture.
And what I've also learned through the years about art is that I like art because you made it. Because it came from you. Because you went out on a limb and put some of yourself into it, because you shared with the rest of the world."