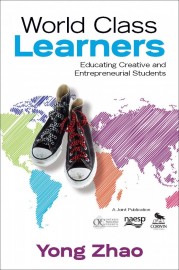 In celebration of our ten year anniversary, Five Oaks Academy is working with community partners to bring internationally known scholar, author and speaker, Dr. Yong Zhao, to the Upstate for a very special event. His works focus on the implications of globalization and technology on education. On September 19 at 6pm, Dr. Zhao will host an evening of  "Synergy". This unique event will be held at the Hyatt, downtown and bring the Business, Education and Art communities of the upstate together to examine "how" we need to educate this generation of children to get them ready for the 21st century workforce and global economy. This event is free to all of our families as well as the Greenville community but does require reserving the complimentary tickets.
Dr. Zhao, named one of 2012 Tech & Learning Magazine's Top 10 Most Influential People in Educational Technology and the recipient of the Early Career Award from the American Educational Research Association, will challenge us to examine our current obsession with test scores and common core curriculum standards. He will address questions such as: how do we prepare this generation for a globalized world and how do we create more entrepreneurs like Steve Jobs? Dr Zhao's presentation will not focus on education reform, but instead will present a compelling argument for a complete transformation in the way we educate. Zhao believes, "To succeed in this ever changing world, students need to be able to think like entrepreneurs: resourcefully, flexibly, creatively, and globally."
Dr. Zhao has written and published more than 100 articles and books, including Catching Up or Leading the Way: American Education in the Age of Globalization and World Class Learners: Educating Creative and Entrepreneurial Students. He has designed schools that cultivate global competence, developed computer games for language learning, and founded research and development institutions to explore innovative education models.
Please request your complimentary tickets online and join us for this exciting event.