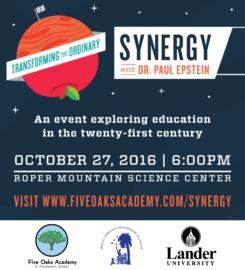 Five Oaks Academy is pleased to announce that Dr. Paul Epstein has accepted our invitation to come to Greenville October 27. This community-wide event will explore education in the twenty-first century. It will be held at the Roper Mountain Science Center at 6:00p.m.
Dr. Epstein is an international speaker and author who has traveled the globe inspiring and providing transformative learning experiences to educators, parents, and teachers. His work as a speaker and educational consultant has taken him to conferences and schools throughout the United States, Canada, Great Britain, Sweden, Mexico, Russia, Brazil, Japan, China, Australia, Nepal, Hong Kong, South Africa, and Poland.
Dr. Epstein's extensive work in Montessori education as an administrator, teacher, researcher, educational consultant, and an author has given him opportunities to observe children as they learn. These experiences have provided him with both inspiration and data to share, engage, and help educators, teachers, and parents.
Paul received his Bachelor's at Dartmouth College and obtained a Master's and Ph.D. in Cultural Anthropology at S.U.N.Y. Buffalo. Paul has published numerous articles in various Montessori journals and other educational journals. He also co-authored The Montessori Way, a definitive work on the Montessori experience. You can read more about his extensive bio at www.paul@paulepstein.us.
To reserve your complimentary tickets please click on this link https://foasynergy.eventbrite.com .