We are excited to welcome local artist, Eva Magill-Oliver, to our Montessori Parents in Action (MPIA) on Tuesday, December 3 for a special guest artist event.
Eva gets her inspiration from the natural world. She creates delicate, meditative collages, drawings, and paintings that reflect and explore different elements in nature and organic environments. Eva's earthy, fluid brushstrokes channel plant life, the flow of water, and the horizon and they caught the eye of athletic gear giant Nike in 2018. Since March of 2019, her artwork has been featured on their women's running apparel and footwear. Her dynamic patterns are intentionally soft and bold and serve to connect runners with the environment around them. "Running is the time when I can focus my ideas and decompress while connecting with nature," McGill-Oliver says. "I wanted my designs to demonstrate that feeling." Nike promotes Eva Magill-Oliver's designs by touting that her designs "give running apparel a meditative vibe." Her designs are available for purchase at nike.com.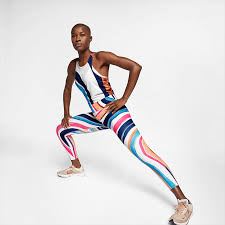 Join us to learn about Eva's art, her process, her journey as a rising woman artist, and how she caught the eye of one of the world's largest suppliers of athletic shoes and apparel.