Thandi Tutu-Gxashe, CEO of Desmond Tutu's Tutudesk Campaign "Tutudesk Campaign 2020," visited Five Oaks Academy in the Fall of 2018. She spoke to our students about the shortage of over 90 million desks in sub-Saharan Africa and her Campaign's mission to provide 20 million Tutudesks to 20 million children by 2020. Thandi Tutu-Gxashe is the daughter of the highly influential leader of the antiapartheid movement in South Africa, Desmond Tutu. Her passion for education and drive to address the vast shortage of desks in sub-Saharan Africa was an inspiration to our students.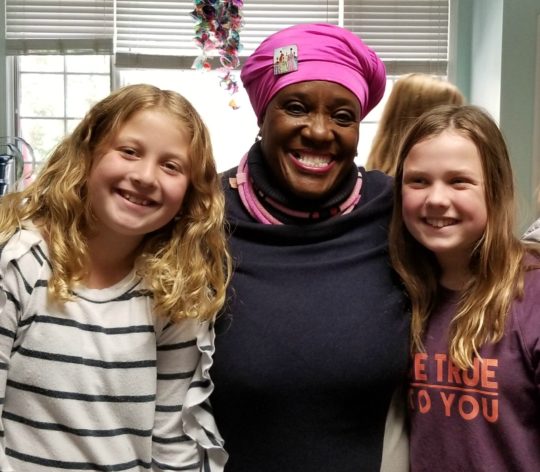 Since her visit, FOA has been heavily involved in raising awareness and funds throughout South Carolina for the "Tutu Desk Campaign." As a school, FOA students have raised $3,226.11 over the past year and a half through lemonade stands, bake sales, and specially-designed T-shirts that have helped raise awareness and funds. FOA also played a role in recruiting both public and private Montessori schools throughout South Carolina via the South Carolina Montessori Alliance to participate in reaching a goal of $20,000.
The Tutudesk is an environmentally-friendly, light, portable desk that children can use at school or at home, in regular classrooms or outdoors. The organization's goal is to improve the lives of African children, their communities and countries, and to make Africa a more globally competitive continent by impacting education and literacy.
To donate to the FOA student campaign, visit https://www.fiveoaksacademy.com/…/tutu-desk-campaign-2020.
For more information about the global campaign, visit http://tutudesk.org.